Pen Sizes
We have several different pen sizes designed to accommodate single cats, two cats or up to four cats. Each of our pens was designed to exceed the FAB Cattery Guidelines (now called International Cat Care) for your cats' comfort. If you would like to give your cat(s) even more space during their stay, why not ask about upgrading to an even larger pen?
Sleeping Area
Each pen has a separate heated sleeping area where the cat beds and a perch for those that prefer to rest above ground level are situated. At night the sleeping area door can be closed to make it extra snug, although there is access to the main pen through a cat flap if they get the urge to stretch their legs.
Sharing Pens
Only cats from the same home can be housed together in a pen. During your cats' stay with us it will never come into direct contact with a cat from another home. If your cats don't get along at home and you feel they would be better in separate pens during their stay please let us know when checking for availability.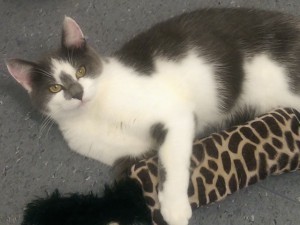 Bedding & Toys
All our cat pens include luxury soft lined beds and a selection of best toys around. Every pen has a scratch post and a perch in sleeping areas for cats that prefer to be high up. Beds and equipment can be placed at floor level for elderly cats. Cats often like the scent of home while they are staying with us at the cattery so, feel free to bring their favourite toys or bed along with them.
Heating
Each of our pens has an individual heating system which is thermostatically controlled to ensure your cats stay nice and cosy during their stay. This can be set according to the cat's temperature preference.
During the summer months we make use of our custom fit blinds so all our guests are comfortably cool. We also have fans and an air-conditioning unit for use on very warm days.
Safety & Security
We take the safety and security of all the cats who are staying with us extremely seriously. The cattery building is fully alarmed and also has the recommended fire and smoke detectors and the accompanying extinguishers.
We operate a strict two door policy for all pens which means that there are always at least two closed doors between your cat and the outside world. That means there is no risk of a cat accidentally being let out. The opening windows in the cattery are above head height and are also securely covered with a stainless steel locking grate for added protection, without limiting the airflow.
Views
Colliers is situated within a beautifully rural setting in Staplecross, East Sussex with far reaching views across neighbouring farmland all the way across the Ewhurst Green and beyond. Each of our luxury cattery pens has a view of the outside so your cats can pass the day watching the array of local wildlife.
Hygiene
One of our main considerations when designing the cattery was hygiene.
All of our accommodation has been built using UPVC pens as they are easy to disinfect and that reduces the risk of bacteria or germs spreading. We have also used specialist flooring similar to that used in hospitals.
All of our cat litter trays are inspected at least three times everyday and cleaned as required.
Fully Insured & Licensed
Colliers Cattery is fully insured and holds a license which was granted by Rother District Council for us to accommodate up to 20 cats at any one time.
Isolation Pen
In accordance with our cattery license and guidance from the International Cat Care organisation we have an isolation pen which is situated in a separate building from the main cattery. This is used on the rare occasion that a cat becomes ill during their stay with us. It is used as a precautionary measure to reduce the risk of any possible infections being passed to other cats staying at the cattery.
The isolation pen has all the same features as our pens in the main cattery building, in addition to a separate kitchen and food preparation area.